If you are a customer with a product-related inquiry, please contact us at www.toro.com/en/customer-support/contact. If you are a member of the media, please contact the appropriate individual shown below:
10th Annual National Mayor's Water Challenge Puts Smart Water Use and Resource Conservation in Spotlight
Residents from 2,000+ Cities Expected to Participate in Campaign That Encourages Simple Hands-On Actions Address National Water Issues
SARASOTA, FL — To mark its 10-year anniversary, the National Mayor's Challenge for Water Conservation is calling on people across the United States to take small, daily actions to reduce water waste and promote the health and sustainability of our nation's water-based ecosystems. The challenge, presented by the Wyland Foundation and Toyota, April 1-30, with support from The Toro Company, US EPA, Hobie, and National League of Cities, brings civic leaders and residents together to become better informed stewards of one of our most precious resources.
The campaign rewards residents who take part with a chance to win $3,000 toward their home utility bills, home irrigation prizes from The Toro Company, Hobie gift cards, and hundreds more eco-friendly prizes. Residents can also nominate a deserving charity in their city to receive a 2021 new-generation Toyota Highlander Hybrid XLE. Cities with the most residents that make pledges qualify for over $50,000 in prize drawings. Residents make their pledges online at www.mywaterpledge.com.
"In the last 10 years, we've seen climate change and shifting weather patterns affect the distribution of water, pollution impacting the quality of water, and fresh water sources that are being used at a quicker rate than they are bring refilled," said Wyland Foundation President Steve Creech. "That's why is so important to have programs like this where people can learn what they can do to help."
Last year, mayors from 39 states encouraged residents to make over 300,000 pledges to promote drought resiliency, protect watersheds, and ultimately reduce stress on aging water infrastructure. Students and teachers can take part in the pledge, too, by accessing a special section of the website. Once there, teachers can download lesson plans relating to water conservation, make the pledge on behalf of their classes and enter to win school prizes, including classroom supplies and gift cards for their school. The foundation has also created a new digital tool called MyVolunteer Water Project, in support of the program, that gives residents a unique way to do hands-on home, community, and workplace projects year-round in support of their city's sustainability efforts. The more projects residents do throughout the year, the better chance a city wins the mayor's challenge in April.
The 10-year anniversary campaign kicked off April 1 in Sarasota, Florida. Re-broadcast of the event is available on ZOOM, and will also launch at multi-city U.S. Tour of the Wyland Foundation's 1,000 square foot traveling Clean Water Mobile Learning Center. The non-profit campaign is presented in association with EPA WaterSense, The Toro Company, National League of Cities, Hobie Surf Shops, and Petal.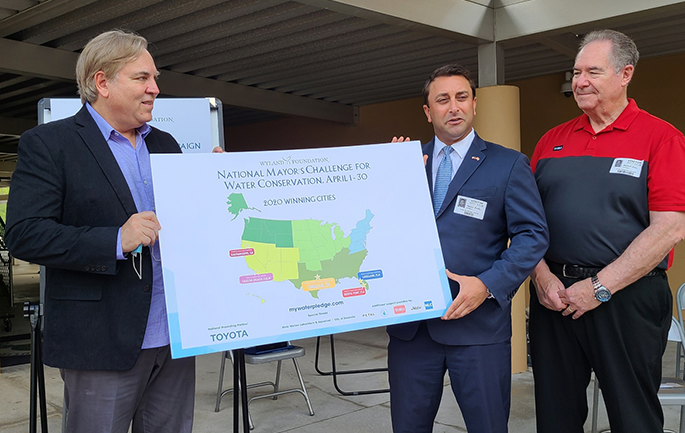 About The Toro Company
The Toro Company (NYSE: TTC) is a leading worldwide provider of innovative solutions for the outdoor environment including turf and landscape maintenance, snow and ice management, underground utility construction, rental and specialty construction, and irrigation and outdoor lighting solutions. With sales of $3.4 billion in fiscal 2020, The Toro Company's global presence extends to more than 125 countries through a family of brands that includes Toro, Ditch Witch, Exmark, BOSS Snowplow, Ventrac, American Augers, Subsite Electronics, HammerHead, Trencor, Unique Lighting Systems, Irritrol, Hayter, Pope, Lawn-Boy and Radius HDD. Through constant innovation and caring relationships built on trust and integrity, The Toro Company and its family of brands have built a legacy of excellence by helping customers work on golf courses, sports fields, construction sites, public green spaces, commercial and residential properties and agricultural operations. For more information, visit www.thetorocompany.com.
About the Wyland Foundation
Founded in 1993 by environmental artist Wyland, the Wyland Foundation, a 501c3 non-profit organization dedicated to promoting, protecting, and preserving the world's ocean, waterways, and marine life. The foundation encourages environmental awareness through community events, education programs, and public art projects. www.wylandfoundation.org